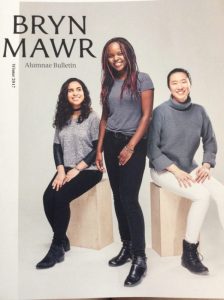 Ria Banerjee obtained her PhD in English in 2014 and started working as an Assistant Professor of English at CUNY. Her two cats have three eyes between them, as documented in many photos online. Recent trips with her partner include Leh, in the Himalayas in northern India, and the Grand Canyon in Arizona. Currently, Ria continues to teach and write in uptown Manhattan.
Chloe Barnett went back to Texas for grad school and then moved to Central Pennsylvania, where she was a librarian at Bucknell University, had a plot in a community garden, went antiquing, wrote a lot, and attended numerous small-town parades. After a while, she got married and relocated to Salt Lake City, Utah.She is now a librarian at Westminster College and is enjoying spending time in the mountains and learning to ski.
Rachel Birch has worked in development at not-for-profit organizations beginning her career at the Lower East Side Tenement Museum, where she enjoyed several promotions, followed by the Museum of Jewish Heritage – A Living Memorial to the Holocaust, and has most recently accepted the position of Director of Donor Engagement and Special Events at Educational Alliance.  She has enjoyed trips to Spain and Japan, "Americanah" by Chimamanda Ngozi Adichie, and hopes to someday share her Brooklyn studio with a dog!

Anna Blinn Cole thru-hiked the Appalachian Trail, met and married her trail sweetheart in 2006, welcomed a daughter, June Ethel, in 2015, completed two post-graduate degrees (MA in Historic Preservation and M.Div), and recently moved to to upstate New York, where she is now pastoring several small United Methodist Churches. Meg Reber ('06) and her family and Claire Mahler ('06) visited us in August for fresh rhubarb and creek swimming!
Jessica (Bourne) Collett lived in Philly for a year, moved to Chicago, attended law school, got married, worked in market research, became a child-protection attorney, visited Japan, got two new kittens, moved to MA last year, is currently working as a career advisor at a small college, with another move (who knows where?) coming up next summer!

Kelly Brennan moved to Washington state seven years ago, started working at Puget Sound Energy, has received several promotions, traveled to Reykjavik, Iceland, and was Anassa'd by her BMC cohort when she married her long-time girlfriend this last summer.

Katie (Campbell) Bale completed her teaching certificate in Special Education, moved five times, ran one half marathon and three marathons, completed yoga teacher training, and got married and honeymooned in Hawaii!  She is currently living and working, happily, in Atlanta.  Next on the agenda?  Her Master of Social Work and raising a future Mawrter, Alice Loretta born 9/8/16.

Elizabeth Catanese completed her MAs in English and History of Art, and now teaches at Community College of Philadelphia, where she has recently received a promotion to Assitant Professor!  Best trip?  To Koya-san, Japan!

Alex (Frizell) Miller lives in Drexel Hill, PA, with her husband, Greater Swiss Mountain dog, and two cats.  She has been with the same company since graduation, but took on a new position last year which has her travelling often to the MidWest, and would love to meet up with any Mawrters while traveling!
Erika Fardig has completed her BSN and MPH and works for the county health department as a public health nurse in a home visiting program for low-income pregnant women and babies. At the end of 2015, she went to Greece to offer medical assistance to refugees arriving on Lesvos; during her layover in London on the way home, she visited briefly with Elizabeth (Mobley) Mantilas. She's hoping to do the same during a 2017 trip to Za'atari refugee camp in Jordan. Erika became a homeowner last year and invites any Mawrtyrs coming through the Seattle area to take advantage of her guest room!
Erin George is living in her home city of Boston with her husband Koji and their 2 year old daughter, Fiona, with another baby on the way in the spring.  She is a midwife at Cambridge Hospital and Birth Center and feels lucky to have two of her best friends from Bryn Mawr, Jackney Prioly '06 and Muska Nassery '06, also living close by!
Ilana Goldflam returned to California after graduating, went to teach English all over Japan for three years, switched fields from biology to linguistics, moved back of California and is currently teaching ESL and chemistry and working on a master's degree in linguistics.
Adina (Halpern) Weisberg worked as a paralegal for three years after graduation, completed her JD in 2012, got married in 2013, and is currently living in Queens, where she's been for the past 8 years, and working as an attorney at Legal Services for the Elderly in Queens/JASA.  She welcomed Rose into the world in December!
Sarah Halter completed medical school, moved to New York, got engaged, completed her residency, moved again, got married, and has taken up running half marathons. She is currently living in Seattle with her husband, Carlos, and rescue lab, Sam, and working for the University of Washington Neighborhood Clinics as a Family Medicine physician.

Emily Hammer completed her PhD at Harvard in 2012 and after two years at NYU took a tenure-track academic job at the University of Chicago in 2014, where she teaches archaeology in the Near Eastern Languages and Cultures Department and directs a Geographical Information Systems laboratory. In the summers and breaks, she carries out archaeological fieldwork in Azerbaijan, Turkey, and Iraq, occasionally has the time to meet up with fellow Turkish archaeologist Madelynn von Baeyer '06 for conferences and sightseeing. In October 2015, she was lucky enough to travel to Iran for the first time for an academic conference and for an unforgettable trip to a number of famous archaeological sites. She's having a great time both in her academic and personal life–Chicago has been even a better fit for her than she had imagined it would be, though it's much harder to see her Bryn Mawr friends and also her DC-based family than it used to be when she lived in NYC and Boston. She recently bought a condo in Chicago and is enjoying the challenges of home-ownership. Inspired by Laura DeLancey '06, she has also taken up aerial silks class at a circus school in Chicago!
Darla Himeles completed an MFA in poetry and poetry in translation and is currently working on her PhD in American literature at Temple University, where she was recently awarded the Dr. Laura S. Dabundo Award for a seminar paper on the poet Maxine Kumin. She has also gotten married to a wonderful wife, Betsy Reese, and has run two half-marathons!
Ginger Kelly completed her Doctor of Veterinary Medicine in 2011, married her Australian study-abroad sweetheart, Timmy, in 2012, and welcomed her first child, Callahan, in 2015. She travels extensively, including a road trip around Ireland and Northern Ireland, Australia, and all over the US. She, her husband, son, two cats, and two rabbits now reside in Houston, TX.
Kirsten "Kiki" (Kemp) Huskey started her career at Chatham Financial the week after graduating from Bryn Mawr. She recently celebrated her 10-year anniversary with the firm, headquartered in suburban Philly. The past ten years have also been filled with trips around the world, including visiting fellow BMC alums, as well as becoming an aunt and getting married to the love of her life, Billy.
Darae Ko completed her MD at Columbia University and internal medicine residency at Boston University Medical Center . She is currently completing a cardiology fellowship at Boston University Medical Center and MSc in Epidemiology at Boston University School of Public Health. She and her husband are currently residing in Boston, MA with their 6 month old son.
Jaimie Krems completed her M.L.A. at UPenn and M.Sc. at Oxford, and is working on her PhD in evolutionary social psychology Arizona State University, where she lives with her mister and their five rescue dogs. She has traveled to Vietnam, Laos, and Cambodia with her fellow BMC alums. She recently published two first-authored articles in the top journals in her field, and, in 2016, won some national awards recognizing excellence among doctoral students.
Beth Ann Lennon has spent the last ten years exploring various parts of the country, with a few international adventures thrown in there to keep things interesting. Right after graduation she moved to Portland, Oregon, for what she thought would be a one year adventure. However, the Pacific Northwest is a magical place and one year turned into three. After working on non-partisan youth voter registration drives across the country in 2006, she decided to put off law school for two more years so she could work on another election cycle. In 2008 she worked for the Human Rights Campaign and was stationed in Anchorage, Alaska on the federal senate race. In 2009 she moved to Boulder, Colorado to attend law school. After graduating in 2012, Beth moved back to Alaska for two years where she worked for the Alaska Court System. In 2013 she snuck off into the woods and married Micah Parsons after over seven years together. Beth and Micah returned to Colorado in 2014 so she could accept a job with Sherman & Howard LLC practicing labor and employment law. Kayden, Beth's cat who she's had since her junior year at Bryn Mawr, got a little brother named Steve when Beth and Micah adopted a puppy in 2015. Since Steve needed a backyard, Beth and Micah bought a house in Denver later that same year. In May 2016, Beth made it back to BMC and had a fantastic time connecting with all of the people who could make for our ten year reunion. Less than a month later, Beth and Micah welcomed their first child, Catherine McKenzie Parsons. Beth can't wait for our fifteen year reunion, where she hopes to see more of the people she remembers so fondly from her time at Bryn Mawr and introduce them to her little girl.
Talia (Liben) Yarmush lives with her husband and two sons in New Jersey and works in NYC as the Director of Communications for Congregation Ansche Chesed. When she's not at work or with her family, she is writing, publishing essays regularly, and has recently completed her first novel.
After graduation, Elizabeth (Mobley) Mantilas moved to London, got an MA in Medieval Studies, fell into working in university administration, enjoyed life in London for a while, bought a house, got married, had a son (now three!), moved jobs to take a promotion in university admissions, all while doing a smattering of travel and hosting visitors.
Devon (Montgomery) Pashanamaei secured a second Bachelors from Drexel, lost 160 lbs, married her Persian prince charming in Paris, and, after many years working at BMC, has recently wrapped up a position at Haverford as the Associate Director of Alumni and Parent Relations.
Nadine Murtaza '06 started an alternative pre-school in her hometown of Islamabad, Pakistan five years ago, which is due to became an authorised IB world school in the spring of 2017. On the side, she has been writing Urdu songs and storybooks for her startup, a children's publishing house called Dheere Bolo, now in its third year. Her kids, Seham (7) and Faiz (5) are her biggest inspiration.
Jackney (Prioly) Joseph completed her Master of Public Administration, has enjoyed trips to visit Katie Campbell '06 in Memphis and London and Paris with Ronke Imbeah-Ampiah '06, and got married in October 2015, with Erin George '06 and Alnisa Bell '06 as bridesmaids and Ronke, Kerlyne Jean '11, and Gabrielle Farrell '12 in attendance! She was also recognized for her contributions by the Bryn Mawr Alumnae Association with the Young Alumnae Service award.
Meg (Reber) Telson got married in 2010, moved to Germany in 2011, welcomed her first child in 2013, and her second in 2016.  She now lives in Berlin, working as a Customer Service Team Lead for GetYourGuide.
Karyn (Ruark) Brown settled in the Philly suburbs after graduating, worked as a childcare center director, got married, adopted a couple of rescue dogs and changed careers to Payroll and Human Resources. She had a daughter in 2015 and this year she and her husband, Julian, purchased their first home in Levittown, PA. In-between, she enjoys traveling , crafting, soccer, and singing karaoke.
Katy (Shaw) Saliba got married in 2011, ran her first marathon AND completed her PhD in 2013, completed her post-doc at Harvard, and has taken a faculty position at Hopkins with an appointment in the School of Public Health and at the Emergency Department.
Rachel Steinberg completed her MA in Conflict Resolution at Georgetown and after spending four years working with the NGO OneVoice on Israeli-Palestinian peacebuilding,now works for the U.S. Fund for UNICEF as the Director for Global Cause Partnerships. In this role, she develops customized partnerships with U.S.-based NGOs and membership organizations who would like to support UNICEF's global programs. Rachel lives in Brooklyn, and in addition to awesome travels for work (such as Ghana!) and pleasure (such as Croatia!), she has also run two half-marathons!
Since graduation, Bayh Sullivan has adopted two cats, moved twice (Philadelphia to NYC to Pittsburgh), and married once (to a Villanova boy whom she met the second week of freshman year at a Pem West party). They bought their first home in 2015, where she now serves as the Director of Enrollment Management for The Ellis School, Pittsburgh's only all-girls independent school. In 2016, she was nominated for an ATHENA Young Professional Award and was nominated and selected to participate in Coro Pittsburgh's Women in Leadership program. She is intermittently daydreaming about graduate school, but hasn't solidified a plan…yet!
Maddie von Baeyer earned her MA at the University of Chicago. She put on a play for the DC Fringe Festival, moved across the country to Portland, OR for 2 years, then started her PhD in Anthropology/Archaeology at the University of Connecticut in 2010. She also married a boy she met at a debate party and helped write, direct, and act in a radio play with her Bryn Mawr theater people.